Vision

Our vision is to be the most customer-centric medical device brand in the MENA region by understanding our customers' needs and providing a diverse and customizable range of products that ultimately improves the lives of the patients.
Mission

In addition to producing our own Surgical Sutures and Medical Gloves, we have endeavoured into the world of customizable procedure packs to empower our stakeholders to all take part in our vision.
Quality

The products are of the highest quality and meet the specifications of the British Pharmacopoeia, European Pharmacopoeia and United States Pharmacopoeia. All our products are CE marked, FDA 10-K approved and our facilities carry the ISO 13485 and ISO 4001 certificates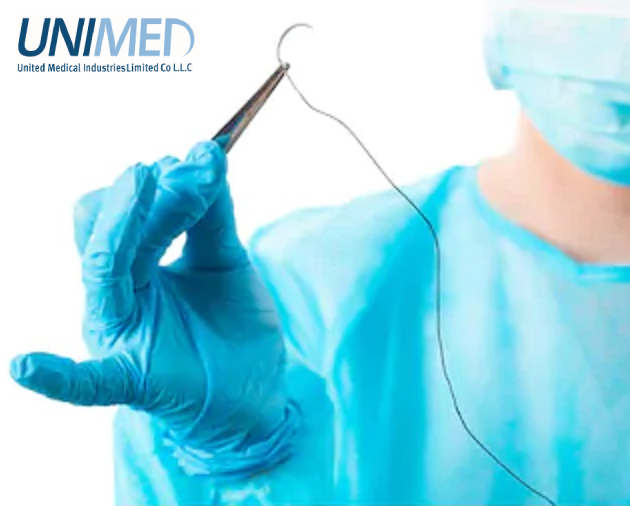 Welcome to United Medical Industries Limited Co L.L.C
About us
United Medical Industries Co. Ltd is a UAE Company producing a comprehensive range of sutures, ligatures and ophthalmic instruments, to satisfy the needs of surgeons at home and abroad. With vast experience in the healthcare industry, UNIMED produces top quality disposable products for every surgical speciality. The Company endeavours to meet the ever-changing requirements of modern surgery and to produce the type and style of sutures that surgeons require.
The products are of the highest quality and meet the specifications of the British Pharmacopoeia, European Pharmacopoeia and United States Pharmacopoeia. It is the goal of UNIMED to develop into one of the leading worldwide providers of sterile disposable products for use in the operating theater and other medical facilities and situations as applicable to the classification of the product
Our Products
Contact Us

For Immediate Assistance Please Contact
0097145646799
Working Hours
Saturday to Thursday

8:00 - 17:00
-->